I've been tagged by C.M. Walker to join a group of talented writers in the Meet the Character Blog Hop. You'll get to know a little about Simon, the main character in From All of Us to All of You.
But first, let me introduce you to C.M. Walker. C.M. Walker lives in Maryland with her husband and two children. She read her first M/M romance story out of curiosity, decided that books were better with two men instead of one, and hasn't looked back since. When C.M.'s not reading or writing, she's either next to a bright light cross-stitching with fancy thread, at the computer digi-scrapping, or at the sewing machine making cute clothes for her daughter.
On C.M.'s webpage you can read about her WIP, with the working title Safe Haven, that hopefully will be out in March 2015.
---
Now, let me introduce you to Simon, the main character of From All of Us to All of You (Beaten Track Publishing – part of Boughs of Evergreen: A Holiday Anthology).
Who is Simon?
Simon is no hero, but he is the main character in From All of Us to All of You. He is a somewhat confused young man who hates Holidays, and since Christmas is approaching he is even more distrait than usual.
Where does From All of Us to All of You take place?
The story takes place in a small west coast town in Sweden. It begins with the celebrations of the Saint Lucia Day, where Simon is introduced to Hannes. Somehow Simon gets it all wrong and thinks they're on a blind date which, of course, they're not.
What won't Simon talk about?
Simon doesn't want to talk about his family. His dad is a drunk, everyone in town knows that, and Simon thinks they pity him for it.
What is Simon's goal?
Simon's goal is to survive Christmas with his sanity intact.
What is the problem?
The main problem is that Simon's sister is celebrating Christmas elsewhere, and, therefore, Simon has to deal with his parents on his own. And then, of course, there is Hannes. Hannes says he isn't gay, so naturally Simon has to be imagining the signals he is seeing.
The individual stories of the anthology will be published individually as ebooks on 1st December 2014. Boughs of Evergreen will be published November 21st, 2014. Proceeds from sales from the anthology will be donated to The Trevor Project.
Add Boughs of Evergreen to your to-be-read list!

Pre-order Boughs of Evergreen here.
---
Meet Next Week's Authors: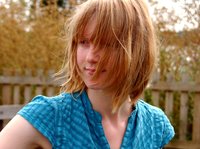 Suki Fleet
Suki Fleet currently lives in the heart of England. Her childhood was quite unconventional and she spent some time living on a boat and travelling at sea with her family. Since she was very small she has always dreamed of writing for a living, but though she has written original fiction online for years and encouraged many new writers to keep going and follow their author dreams, it is only recently she got the courage to make her own dream a reality and actually send something off to a publisher.
By day, she runs her own business selling fabric (her second love) and spends time juggling family commitments, by night she weaves the stories that the characters in her head dictate. These stories often start with pain or longing but always end with love.
http://sukifleet.tumblr.com/
https://www.facebook.com/suki.fleet.3
http://sukifleet.wordpress.com/
Suki Fleet is the author of Skeleton
Jan has given up on love, at least the romantic kind. He loves his five-year-old son Henry more than anything.
But when Henry starts school, Jan is introduced to Matthew, a very sweet but shy young man who helps out in Henry's class. Although he tries desperately to ignore his attraction, Jan finds himself falling for Matthew–he's everything Jan needs.
But amid creepy silent phone calls and possible break-ins, things start to fall slowly apart for Jan. Matthew wants to trust Jan, but the skeleton Jan has been trying to keep buried in his closet and the guilt he feels threatens to destroy everything good in his life.
Skeleton was Published by Dreamspinner Press Oct 1st 2014
Buy Skeleton at:
Dreamspinner Press
Amazon.co.uk
Amazon.com

---
Shayla Mist
Shayla made her debut in the writing world during elementary school with a heart-breaking story about how her grandma's chicks died from an unknown disease. It was published in the school newspaper, spurring a significant amount of pitiful looks directed her way. Being a stubborn Aquarius, she kept on striving, publishing cheesy love poetry, an endeavor that thankfully proved to be far more successful. Her writing life changed dramatically when she read her first yaoi manga and discovered her real calling. Imagining guys together has become her favorite pastime. Aside from writing, daydreaming about men and devouring any M/M book she can get her hands on and, she also loves manga, kpop, jrock, classical music, crafts and art. An earnest romantic, she's always been convinced there's a soulmate out there, searching for her. It appears he's been lost. Maybe word hasn't gotten to him that cars are faster than white horses. In case you've seen a prince on a white horse (though a sports car would be preferable), Shayla would very much appreciate if you let her know. Contact her at shayla.mist@gmail.com or on her blog – shaylamist.blogspot.com
Shayla Mist is the author of Christmas Commitment (Beaten Track Publishing – part of Boughs of Evergreen: A Holiday Anthology due out on November 21st, 2014).
Dick hates Christmas. This year more than ever because he's been dumped by his boyfriend. There's only one way to prove Zack he's serious about them: coming out to his family. Dick might be willing to do that, but what if it's already too late?
Add Boughs of Evergreen to your to-be-read list!

Pre-order Boughs of Evergreen here.