It's Friday today, did you know? I didn't. When I woke up this morning I was wondering why my husband wasn't in bed with me—turns out he was getting our son to school because apparently it's Friday, not Saturday as I thought, and apparently I was tired because I have not heard any alarms go off or noticed my husband getting out of bed. But since it is Friday I'll do a little post about what I'm reading.
This week I've let myself become obsessed with Hsin Liu Vega. For ages, I've had Evenfall by Santino Hassell and Ais on my E-reader and now I decided to read it. I downloaded the Director's cut versions of In the Company of Shadows #1 and since then I have cheated on my daily word count goal, I've neglected all forms of cleaning, the pile of laundry is growing and why, why, do we have to eat so damn often?
I'm beginning to think I have a questionable taste in men—what else is new, you wonder, and nothing really. Me falling head over heels for an assassin with all his fucked up ideas and morals is not new at all. That I like blood, gore, and cruelty isn't new either. That I gladly read post-apocalyptic stories isn't much of a surprise, nor is the fact that I like stories with more plot than sex. So the strangest thing here probably is that I haven't read it until now.
I'm so impressed by authors who manage to write these kinds of stories and I can't even begin to imagine the number of hours Hassell and Ais have put into it. I hoped they enjoyed writing it as much as I've enjoyed reading it.
---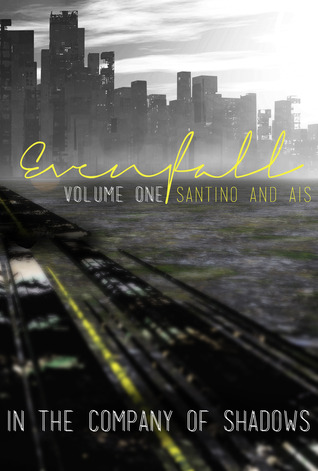 Available at: www.inthecompanyofshadows.com
In a post-apocalyptic future, the Agency works behind the scenes to take down opposition groups that threaten the current government. Their goals justify all means, even when it comes to their own agents.
Sin is the Agency's most efficient killer. His fighting skills and talent at assassination have led to him being described as a living weapon. However, he is also known to go off on unauthorized killing sprees, and his assigned partners have all wound up dead.
Boyd is not afraid to die. When his mother, a high-ranking Agency official, volunteers him to be Sin's newest partner, he does not refuse. In fact, his life has been such an endless cycle of apathy and despair that he'd welcome death.
In the newly revised Director's Cut of Evenfall, the first volume follows these two cast-offs as they go from strangers to partners who can only rely on each other while avoiding death, imprisonment, and dehumanization by the Agency that employs them.
120,000 words.
Warnings: Explicit violence, physical and psychological abuse.
Note: This is the first of the two volumes comprising Evenfall, the first book in the ICoS series.