I've been trying to do a bit of a spring cleaning on my e-reader. There are soo many books, most of them I don't even know when I got or what they're about. At the beginning of this week, I started reading Houseboat on the Nile by Tinnean. I've had it for years, even before I had my e-reader I think, but I've been reluctant to read it. Now, however, I needed a book starting with H for my A-Z Book Title Challenge, so I started reading. I am now more than halfway through on Not My Spook!, and not because I need a book starting with N—I don't.
There are many things that under normal circumstances would have me if not quitting the book then at least sigh loudly—there are exclamation marks everywhere, names are crammed into dialogues at the most annoying places and where they aren't needed, and you get to read most scenes twice both in Mann's and Vincent's POV—but what can I say? I'm in love with Mark Vincent. He is probably one of the most frustrating men ever made up and I love him.
So nothing came of the spring cleaning since I ended up buying more books *sigh*.
---
Mark Vincent is WBIS—Washington Bureau of Intelligence and Security. Quinton Mann is staunchly CIA. Mark thinks the CIA is full of dilettantes who leave him and the rest of the WBIS to clean up their messes. Quinn thinks most WBIS agents are sociopathic loose cannons. So they don't exactly get along.
Of course, just because they don't like each other doesn't mean they can't play mind games on each other. Or sleep together. But when an explosion at Mark's apartment sends Quinn to the morgue to ID a body, he has to reevaluate his position on denial.
books2read.com/HouseboatOnTheNile *
---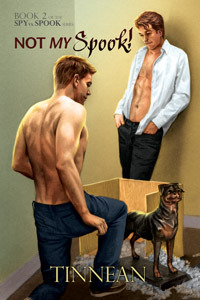 Highly ranked CIA officer Quinton Mann finds himself in a relationship with Mark Vincent-for exactly five days. At that point, Mark uses the excuse of going to Massachusetts for his mother's funeral to end it. But Quinn's a spook, and you can't fake a faker.
Mark fears he's getting in too deep with Quinn, hence the disappearing act. Then Quinn does something unexpected, something nobody has ever done before: he comes after Mark. Maybe being in a relationship with Quinn isn't such a bad idea. In the meantime, something strange is going on in the intelligence community worldwide. When Quinn disappears while investigating a rogue antiterrorist organization, Mark makes up his mind. Quinn might be a spook, but he's Mark's spook, damn it-and once he gets Quinn home, he intends to keep him. He just has to find him first.
---
* By clicking the Books2Read link you'll be taken to an external page. Links to Smashwords, Kobo U.S and Amazon contain affiliate links that earn me a small commission at no additional cost to you. As an Amazon Associate I earn from qualifying purchases.